Schedule A Power Hour
At Your Place or Ours
Power Hours
Register for one of our Power Hour Sessions.  We can come to your location or we can hold your training in our new Technology Lab in New Berlin, WI.
Schedule a minimum of 2 hours (minimum of 3 people) and you will receive:
Personalized Training at no charge to you
5% off your next Baldor or ABB order (1 coupon per company)
Here is a list of the Power Hour sessions we can provide.  If there's something you'd like us to offer, let us know.
Motor VFD Sizing & Applying (2hrs)
Protecting your Motors (1hr)
Applying drives on your application – pick 1 application (1-2hrs)
VFD Programming made easy (1hr)
Parameter explanation in depth (4hrs)
Communication to ABB Drives (AB) (1hr)
Communication to ABB Drives (Siemens) (1hr)
Communication to ABB Drives (SQD) (1hr)
Advanced Programming (4hrs)
ABB Overview (1hr)
ABB PLC Overview (1hr)
ABB PLC Programming (Free Software) (3hrs)
Troubleshooting (2hrs)
PID Control (2hrs)
Master Follower (1hrs)
ABB/Baldor Servo Overview (1hr)
Servo Programming (2hrs)
How do ABB Drives stack up – pick competitors (1hr per competitor)
Pump and Fan Energy Software (1hr)
Drive PC/Mac Software (1.5hrs)
Flashdrop made easy (1hr)
Harmonics (1.5hrs)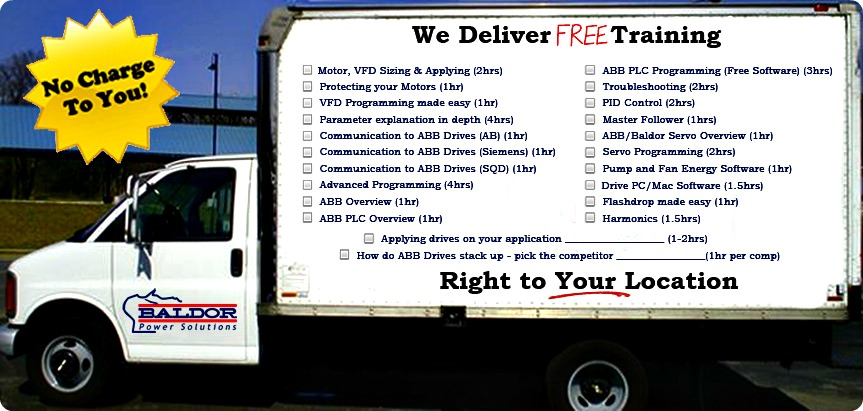 [javascript src="https://et100.infusionsoft.com/app/form/iframe/5257584afd65dc18d7967e790813683c"/]